Inside InStyle
Sep 30
We're still head over heels in love with our 9W x InStyle collection! From left: Jaiden lace-up booties, Cate ankle-strap pumps, Tessa pointed toe pumps
Photo credit: Sarah Balch for InStyle.com
Sep 26
Where We Went: Paige Denim's Showroom
After spending all day cramped behind an office desk, a quick jaunt downtown—even for a work appointment—is always a welcome change of scenery, especially when the destination of the day is Paige Denim's palatial showroom. With its white walls, bleached wood floors, and wide, gaping windows that flood the room with light, the one-year-old loft space on Greene Street in N.Y.C.'s Nolita neighborhood makes me feel like I was teleported to California, where the brand's headquarters are based, for a hot minute.
And the visit was made especially fruitful with the introduction of a whole slew of overalls for the spring 2015 season, of which I was offered a sneak peek. Pictured above, the six styles (including the much lauded Sierra), come in a range of dyes and cuts, including the brand-new Phillipa, which features vintage-inspired adjustable suspenders that I have to assume will make trips to the bathroom a whole lot less complicated. To quote co-founder Paige Adams-Geller: "It's an an edgy and elevated update that could be worn dressed up or down." To say I can't wait to snap these up when they hit stores January 30 is a vast understatement.
— Claire Stern, InStyle Editorial Assistant
Sep 25
Talk about a major throwback! I bought this varsity jacket eight years ago from Delia's (remember Delia's?!), and completely forgot I had it until I recently started looking for fall pieces. It's right in line with the athleisure movement (not to mention, monogrammed varsity jackets were featured on the Rag & Bone fall/winter 2014 runway) and it works as the perfect summer-to-fall transitional piece.
Here, I paired the jacket with scalloped lace shorts and a solid white tank. Then I added some flair with black accent pieces, from my cameo necklace to my lace-up pumps. Definitely an upgrade from wearing it with a soccer uniform! 
— Isis Briones, Editorial Business Coordinator
Outfit breakdown:
Varsity Jacket: Delia's
Tank: Sanctuary
Necklace: Zales
Shorts: Forever 21
Shoes: Necessary Clothing
Photo credit: Sarah Balch for InStyle.com
On this dreary rainy day, we're stepping into puddles, wet-free, with a pair of cheery yellow rubber chucks, brought to you by Converse's new All Star high-tops redesigned to stand up to mild sprinkles or torrential downpours. Rainy day footwear has never been so slick!
Photo credit: Sarah Balch for InStyle.com
Sep 24
As two 20-something fashion assistants in Manhattan, you can often find us working late and raiding the vending machine (Cheez-Its, anyone?) instead of hitting the gym or at home whipping up a healthy meal. In an effort to finally get fit, we have armed ourselves with a mission to test out the hottest workouts around, while learning how to recreate the experience at home.
First up is SBC, aka the hardest class we've ever done (we couldn't walk properly for a week, true story). Russell Bateman is the London-based trainer and owner of SBC, and he is high in demand (he counts top British models, like Daisy Lowe, Chelsea Leyland, Edie Campbell, and Bradley Cooper's girlfriend Suki Waterhouse, as his clients).
His method of training is crazy intensive and completely out of the box. Let's just say, he had us doing moves that used muscles we never knew we had. Since his London classes are always sold out (and also across the Atlantic), he gave us his top four SBC moves that you can do at home, demonstrated by yours truly. 
— Rebecca Carhart and EJ Briones, InStyle Editorial Assistants
1. Can-Can Kicks (above)
"Can-can kicks are intense cardio and a killer for the triceps, legs and core. Get the rhythm in sync and it can be really explosive and is a great tool to increase fitness."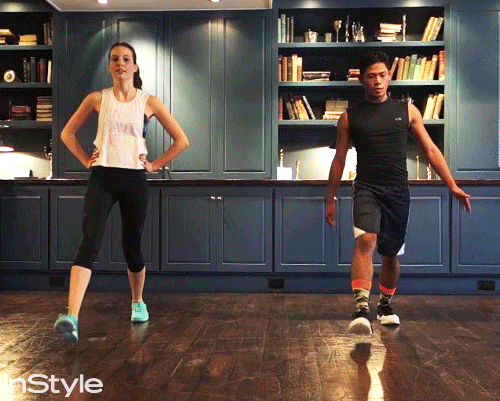 2. Clock Lunges (above)
"Imagine you are on a clock face: Lunge to 12 o'clock, then to 6, 3, and 9. The variability of movement and the dynamic motion of the lunges will work every part of your lower body. It can look very cool when synchronized to perfection. When you perfect the move, add weights and hold them above your head!"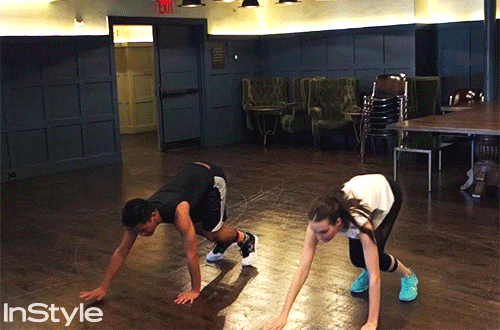 3. Primal Jump Crawls (above)
"This is called primal crawl jumps with a twist. These work your core and legs with a very human movement pattern. Wearing the SBC bands around the knees also help to fire the butt muscles!"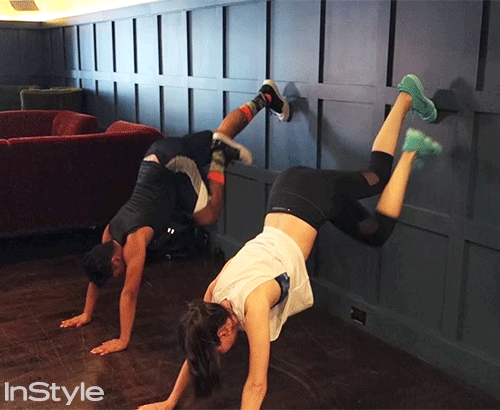 4. Inverted Wall Climbers (above)
"These really challenge your heart, core, and whole body coordination. This a move designed to take you out of your comfort zone. Try for 30 seconds!"
Sep 23
I got teleported! Last Friday, Marriott Hotels parked a giant teleportation machine outside our midtown skyscraper, and a team of InStyle staffers headed down to check it out. The contraption featured Oculus Rift 4D technology, which basically means you voluntarily strap a virtual reality visor on your face that's filled with 360-degree live-action CGI (computer generated imagery) video.
I volunteered to go first. After signing my life away on a waiver, the Marriott team locked me into the booth. I couldn't hear or see anything at all—the visor completely silenced the noisy NYC streets and filled my vision with only virtual images.
Immediately, I felt like I was dropped into a video game. I landed in a Marriott Hotel lobby and then pushed into a vortex that sent me to Hawaii's Wai'anapanapa Black Sand Beach in Maui. I remember looking all around and thinking: I WISH I WAS REALLY IN HAWAII RIGHT NOW.
Before I could finish my thought, I whipped back through a vortex and was sent to the edge of London's Tower 42, where I peeked up, down, and all around. It felt like I was really hanging off a building, and the machine even blasted wind to emphasize my virtual height. Then the floor of the transporter moved, which got me so spooked, I reached for the poles on the machine (pictured above).
After two minutes, the whole experience was over. Sadly, it meant I had to go back to the real Real world—a.k.a. work.
—Sharon Clott Kanter, InStyle Senior Editor
Photo credit: Alex Reside for InStyle.com
Sep 19
Temporary jewelry tattoos have taken over the celebrity sphere, and now, they're sweeping the InStyle office. Staffers are getting (temporarily) inked with pretty prints (from chevron to palm trees—yes, that's a palm tree on the far left) gilded in silver and gold.
From left:
Claire Stern (InStyle Editorial Assistant): Flash Tattoos
Marianne Mychaskiw (InStyle.com Assistant Beauty Editor): Golddust NYC
Jennifer Davis (InStyle.com Assistant Social Media Editor): Golddust NYC
Andrea Cheng (InStyle.com Associate Fashion Editor): Golddust NYC
Photo credit: Alex Reside for InStyle.com
Sep 18
Look Who We Met: Danielle Fishel (aka Topanga)
I'm such a TV fiend and was basically raised on Boy Meets World episodes, so every day after school, I couldn't wait to get home and spend some quality time with Cory, Shawn, and of course, my hair idol Topanga.
Even back during her flower child phase, I thought Topanga was just the coolest girl ever, so my inner 10-year-old self was freaking out when Danielle Fishel paid a visit to InStyle headquarters last week. I can't get over it, she really was the sweetest person ever—we had a blast chatting it up about Girl Meets World, her new book, '90s beauty trends, and that glorious hair of hers, then we swung by the InStyle fashion closet where she was amazed by the rows and rows of Louboutins.
I always used to wonder how cool it would be to have Topanga as a best friend when I was a kid, and figured we'd probably spend a lot of time decking each other's hair out in butterfly clips and talking about cute boys. Though no butterfly clips were involved this time around, we talked about another cute boy in her life—her 15-year-old dog Spike—and she even showed us a few pictures from her recent wedding with now-hubby Tim Belusko. Seriously, how cool is she?
— Marianne Mychaskiw, InStyle.com Assistant Beauty Editor
Photo credit: Alex Reside for InStyle.com
Sep 17
A few weeks ago, I got to live the life a celebrity thanks to the Row NYC Hotel and its Paparazzi Package (yes, such a thing exists!), which includes a one-night stay in a gorgeous two-bedroom penthouse suite, a hair and makeup artist to make you look camera-ready, and a Getty photographer to follow you around and take your photo. I've always wondered how it would feel to be trailed by the paparazzi, so I decided to give it a shot. Read all about my experience on InStyle.com. 
— Rita Kokshanian, InStyle.com Editorial Assistant
Photo credit: Rommel Demano/Getty Images for Row NYC
Sep 16
What We Wore to NYFW: Ali Pew (InStyle Market Editor)
Ali Pew pieced together a look that harmonized cool menswear-inspired accessories and flirty ladylike silhouettes. That skirt? Perfection!
Earrings: Dior and Hirotaka
Sunglasses: Thierry Lasry
Sweater: Rag & Bone
Skirt: Jil Sander Navy
Shoes: Sigerson Morrison
Bag: Balenciaga
Photo credit: Theresa Balderas