Inside InStyle
Oct 17
Editor-Tested: Glam & Go Blow Dry Bar
To produce our annual Best of Digi feature in November, our editors spend months researching the latest and greatest sites, apps, and tools that'll make your life simpler, easier, and, yes, more digitized. This often requires taking meetings with the founders, visiting their offices, and of course, personally vetting each one to ensure its quality and usefulness (this year's lineup included a lean and mean list of 107).
Considering the unruly J-fro that lives atop my head, it goes without saying I'm more than willing to test out a blow dry bar—especially one that can be accessed from your gym. As the accessibility of blowouts rapidly increased, Glam & Go launched in November 2013 with the chief aim of allowing women who are torn between choosing their exercise routine or their hair to finally have both simultaneously. 
And as two busy women who regularly make valiant efforts to go to the gym, Associate Editor Christina Shanahan and I were very pleased with the service, as well as our respective 'dos. While I opted for the vampy "Serious Curves" style, she went for the casual yet practical fishtail braid. The best part? Each one took 15 minutes. So there's really no excuse to skip your (OK, our) next spin class. 
Head to Glam & Go's website or download its app to book an appointment. To read the full Best of Digi feature, pick up the November issue of InStyle, available on newsstands and for digital download now. 
— Claire Stern, InStyle Editorial Assistant
Photo credit: Sarah Balch for InStyle.com
Oct 16
We're playing with pearls! From ear jackets to duo-ended bracelets, these pearl-studded designs spotted on InStyle staffers around the office are far from conservative.
Clockwise from top left: 3.1 Phillip Lim chain-pearl necklace, Ariel Gordon x Shopbop pearl ear jackets, Vita Fede bracelet, Lanvin pearl-studded ribbon necklace, Vita Fede ear jacket, Rue Gembon midi rings, Luv AJ x Jewelmint rings, Zara ring
Photo credit: Sarah Balch for InStyle.com
Oct 13
The look we're loving at the office: InStyle Editorial Intern Morgan Grain's colorful ensemble. She channeled an offbeat school girl look with a denim button-down and a pleather skirt that she topped with a fun floral blazer from the Asos Africa collection. The best part? Her killer metallic Dr. Martens creepers (we hear they're making a comeback).
— Isis Briones, InStyle Editorial Business Coordinator
Outfit breakdown:
Denim shirt: Uniqlo 
Skirt: Silence + Noise 
Blazer: Asos Africa
Metallic Creepers: Dr. Martens 
Heart Ring: Tiffany & Co.
Floral Ring: Vintage
Earrings: Vintage
Photo credit: Sarah Balch for InStyle.com
Oct 08
I've always been the experimental type, adhering to the personal philosophy of "I'll try anything once." So, when the opportunity came along to meet with celebrity colorist Danny Moon, I agreed without a second thought.
With A-list clients like Nicole Richie and Katy Perry, Moon has easily become the master of hair color, transforming normal hair into multidimensional, vibrant hues. 
During my consultation, we discussed different options, taking into consideration my natural hair color and skin tone. We decided to go with a metallic blue. I knew the process was going to be a lengthy one; so, I figured, what better way to make the time pass than to document each step of the process through a series of selfies? 
Because my hair is black, Moon started by bleaching my hair twice to create the nice base for the dye. I have to warn you though: The procedure to go from black hair to platinum hair is both extensive and painful (I was in the chair for five hours), but it was totally worth it.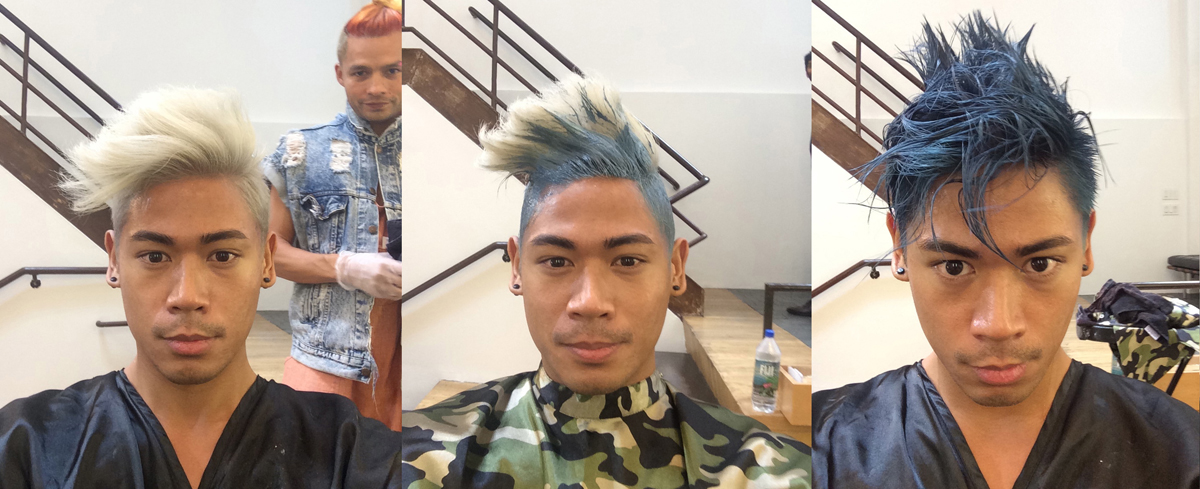 Once he was satisfied with the base color, Danny showed me what he does best. To create this custom metallic blue, he began mixing a series of unexpected colors (like navy, purple, orange, and yellow). Then, after the final application and a few washes—voila! My new blue 'do!
— EJ Briones, InStyle Fashion Assistant
Photo credit: Alex Reside for InStyle.com
Oct 07
We're big fans of Emma Roberts' style on and off the red carpet, so when the actress decided to try her hand at designing (read our Q&A with Roberts about the collection), we were some of the first to seek out—and subsequently scoop up—her pieces. By sheer coincidence (and a little bit of shameless Roberts fandom), three of our staffers showed up to work donning sparkling statement gems from her newly announced 20-piece collection for BaubleBar.
From top:
Claire Stern (InStyle Editorial Assistant): Pearl Orwell Bib
Rita Kokshanian (InStyle.com Editorial Assistant): Third Eye Ear Jackets
Katie Donbavand (InStyle.com Associate Producer): Rainbow Frank Collar
Photo credit: Sarah Balch for InStyle.com
Oct 06
Where We Went: Jeff Koons at the Whitney
Last Friday, team InStyle headed to the Whitney Museum for a guided tour of Jeff Koons: A Retrospective, one of the buzziest art exhibitions of the year—and the controversial artist's first major museum presentation in NY. 
The show is structured as a chronological narrative of Koons's major works, from 1978's Inflatables to 2014's Play-Doh, a piece 20 years in the making that he completed just days before the exhibit opened. 
As we strolled from room to room, our brilliant guide, Frances, explained the ideas that influenced Koons, including his obsession with the boundaries between life and death, banality and high art. We left with a greater appreciation for Koons—and an amazing InStyle group selfie taken with the help of the Moon's pink reflective surface.

The exhibit runs through October 19 and will be the final one to take place at the Whitney's uptown location before the Museum opens its new building in Manhattan's Meatpacking District in 2015. 
Look Who We Met: Lykke Li at Radio City Music Hall
I fell in love with Lykke Li in high school after hearing her single "Little Bit." I was driving home from school and a friend of mine said, "You gotta check her out," and after hearing the shoulder-shaking, hip-swaying chorus I knew that she was definitely something special—something I hadn't heard before. Since releasing her debut album Youth Novels, and then her bass-thumping, angst-filled sophomore effort Wounded Rhymes, Li has evolved into a power ballad dancehall queen, especially in the wake of her latest and first self-produced album, I Never Learn.
Getting the chance to see Li at Radio City Music Hall was phenomenal. I had seen her perform at the Apollo Theater in May, which was quite the intimate experience since the theater is home to so many legendary artists and because the venue itself isn't that large (which also made it a bit difficult to dance during the show). But Radio City, on the other hand, was a full-blown arena in which we were all members of Li's crooning performance, dancers in the hall of smoke machines, flashing red and gold lights, wispy cloaks, and pulled heart strings.
In the downstairs lounge after the show, my heart stopped when I got the chance to meet Li who was clad in a black, oversized blazer and shiny black loafers (both pieces by her own collection with & Other Stories). She was shy at first, but when she started talking about karaoke plans for the night and enjoying free time the next day, I was the one who became shy and quiet. I'm thankful (and still awestruck!) that she snapped a photo with me, and that she, like her entire constellation of music, is as magical as ever.
— Justin Miller, InStyle Art Assistant
Plus, check out our fashion feature with Lykke Li in InStyle's October issue, available newsstands and for digital download now and read an excerpt from the interview on InStyle.com.
Sep 30
We're still head over heels in love with our 9W x InStyle collection! From left: Jaiden lace-up booties, Cate ankle-strap pumps, Tessa pointed toe pumps
Photo credit: Sarah Balch for InStyle.com
Sep 26
Where We Went: Paige Denim's Showroom
After spending all day cramped behind an office desk, a quick jaunt downtown—even for a work appointment—is always a welcome change of scenery, especially when the destination of the day is Paige Denim's palatial showroom. With its white walls, bleached wood floors, and wide, gaping windows that flood the room with light, the one-year-old loft space on Greene Street in N.Y.C.'s Nolita neighborhood makes me feel like I was teleported to California, where the brand's headquarters are based, for a hot minute.
And the visit was made especially fruitful with the introduction of a whole slew of overalls for the spring 2015 season, of which I was offered a sneak peek. Pictured above, the six styles (including the much lauded Sierra), come in a range of dyes and cuts, including the brand-new Phillipa, which features vintage-inspired adjustable suspenders that I have to assume will make trips to the bathroom a whole lot less complicated. To quote co-founder Paige Adams-Geller: "It's an an edgy and elevated update that could be worn dressed up or down." To say I can't wait to snap these up when they hit stores January 30 is a vast understatement.
— Claire Stern, InStyle Editorial Assistant
Sep 25
Talk about a major throwback! I bought this varsity jacket eight years ago from Delia's (remember Delia's?!), and completely forgot I had it until I recently started looking for fall pieces. It's right in line with the athleisure movement (not to mention, monogrammed varsity jackets were featured on the Rag & Bone fall/winter 2014 runway) and it works as the perfect summer-to-fall transitional piece.
Here, I paired the jacket with scalloped lace shorts and a solid white tank. Then I added some flair with black accent pieces, from my cameo necklace to my lace-up pumps. Definitely an upgrade from wearing it with a soccer uniform! 
— Isis Briones, Editorial Business Coordinator
Outfit breakdown:
Varsity Jacket: Delia's
Tank: Sanctuary
Necklace: Zales
Shorts: Forever 21
Shoes: Necessary Clothing
Photo credit: Sarah Balch for InStyle.com